Interior Designer
$5,000,001+
Model Home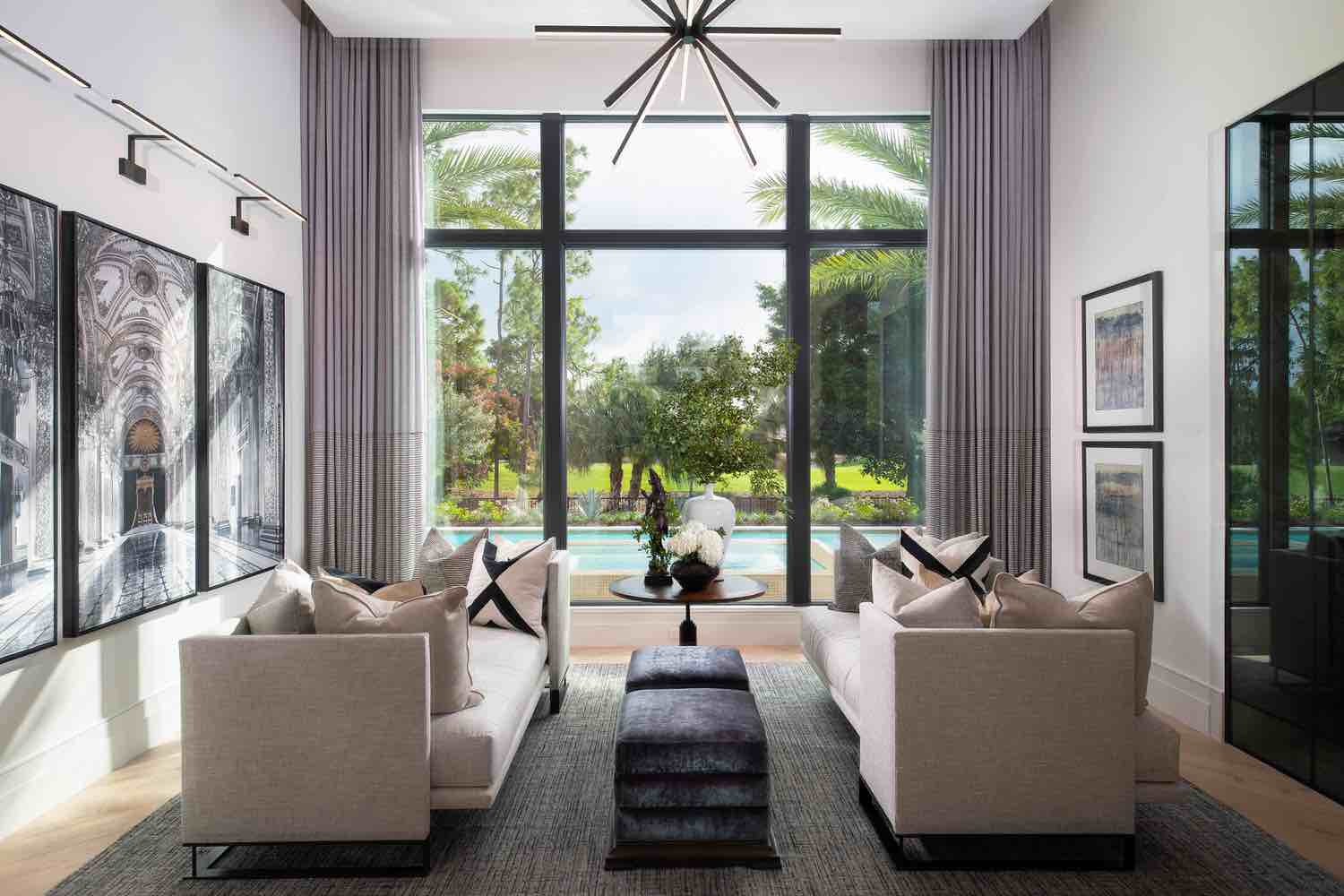 The furnished Oak Hill grand estate model in Quail West blurs the line between indoors and outdoors with a modern-transitional concept. The residence features clean-lined interiors and an organic color palette via soft-modern expressions and Asian influences as well as pushes the envelope from an industrial standpoint.
It all begins with a custom front door and a vaulted foyer that presents dramatically lit ceiling detail. Soft grey draperies with a different pattern at the bottom complement the reverse soffit and black and white triptych of the Palace of Versailles. The symmetry of the design focuses the eye on the parlor's wide glass windows leading to the outdoor living area's raised spa.
An industrial table-like island in the kitchen seats 12. That double-island kitchen accommodates a modern, black metal frame and wooden base stationary design. The great room was designed around the entertainment wall, which features three-dimensional-inspired wallpaper, while the all matte black study transitions into a conversational piece via floor-to-ceiling draperies that frame the view of the pool, the golf course and beyond as well as soften the boldness of the design.
In the master bedroom, earth tones contrast rich colors and Asian accents amid cool-gray and white canvas. Wall-mounted lights hang over the nightstands to demonstrate flexibility and livability. In the master bathroom, a cool-gray honed natural stone runs most of the floor, while gray draperies make the tub a focal point. A small hexagon mosaic sits under the heated tub. A globe pendant hangs from the ceiling, coupled with a 10-inch-thick countertop in a creamy white. The steam and spa showers provide views of a private Zen garden. The guest spaces feature swanky-modern king-size beds that reflect the tone of the entire home.
The model appeals to individuals and families who enjoy rich social and artistic events and activities, along with the casually understated elegance of Quail West. This satisfies an opportunity to capture that essence with the Oak Hill design.
The designer met this opportunity by sticking to its mission statement, which encompasses time, budget, accuracy, communication and exceptional, enjoyable customer service.