Developer/Community
Over $1,000,000*
Commercial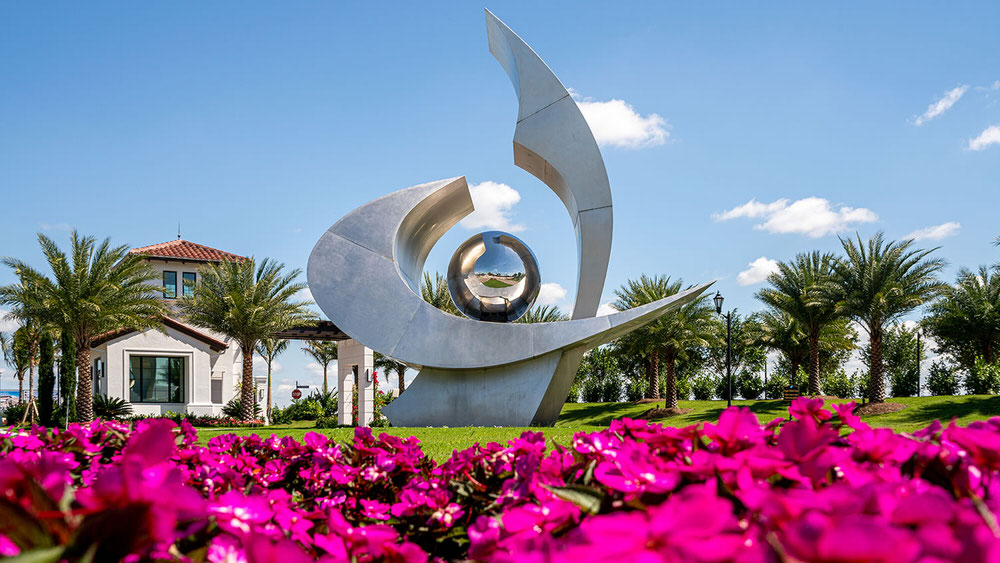 • Commissioned contemporary "New Beginnings" sculpture as focal point
• Xeriscaping principles
• 50 date palms, plants and flowers chosen for drought-tolerance, water-efficiency
• Three types of turf selected for texture, color and ease of maintenance
• California Spanish-inspired gatehouse architecture with arbor
• Gates open to views of water and beach and new amenities, including a cobblestone waterfront promenade and boat launch
There's only one chance to make a first impression…
The second entrance to this well-established community was designed as a juxtaposition to the main entrance and as a symbol of the many new beginnings taking place just beyond the gates – the introduction of modern architecture, new neighborhoods, new amenities, new lifestyles. The new entrance's focal point, a contemporary stainless-steel sculpture aptly named "New Beginnings," contrasts and complements the formality and classic Renaissance influences of the main entrance (a mile to the south) with its colorful sculpted landscaping, Italian cypress, towering royal palms and grand 80-foot multitiered fountain – a local landmark – adorned with life-size statues, sculpted koi and urns.
Commissioned by the developer and created in Zurich, Switzerland, by world-renowned artist Housi Knecht, "New Beginnings" is symbolic in size and scope. It's 28 feet tall, 26 feet wide and weighs over 10,000 pounds. The community's emphasis on water and its 700-acre lake are foreshadowed by the sculpture's wave-like stainless steel curves and the shimmer of water flowing around the 7-foot sphere which is polished to a mirrored luster and illuminated at night. The sculpture also functions as a public art installation, visible to motorists along the public roadway and those stopped at the traffic lights of a new four-way intersection and shopping center entrance. Landscaped berms add dimension, depth and privacy for the community's just-introduced neighborhoods.
Landscaping complements the contemporary design of the sculpture with clean, simple elements to create a sense of space. Fifty date palms – each individually uplit – provide beautiful full canopies to frame the sculpture and echo its curves. The design also employs xeriscaping principles, limits the palette to a handful of flowerbeds with seasonal color and uses three types of turf selected for texture, color and ease of maintenance. The architecture of the gatehouse features the clean lines and minimal ornamentation of California-inspired architecture and an arbor that will be laced with colorful blooms as the landscaping matures.
Like the main entrance, the new entry reveals views of water and beach just beyond its gates. As part of the landscaping project, a new palm-fringed cobblestone promenade hugs the beach and lagoon as it meanders and connects to the community's miles of sidewalks. There's also a new boat launch for residents.
The new entry creates a heightened sense of arrival while introducing the contemporary side of this community as well as its emphasis on landscaping and destination gardens throughout – elegant parterre gardens, oversized flowerbeds, a new botanical park, hidden pocket parks and layers of color.