Interior Designer
$5,000,001+
Private Residence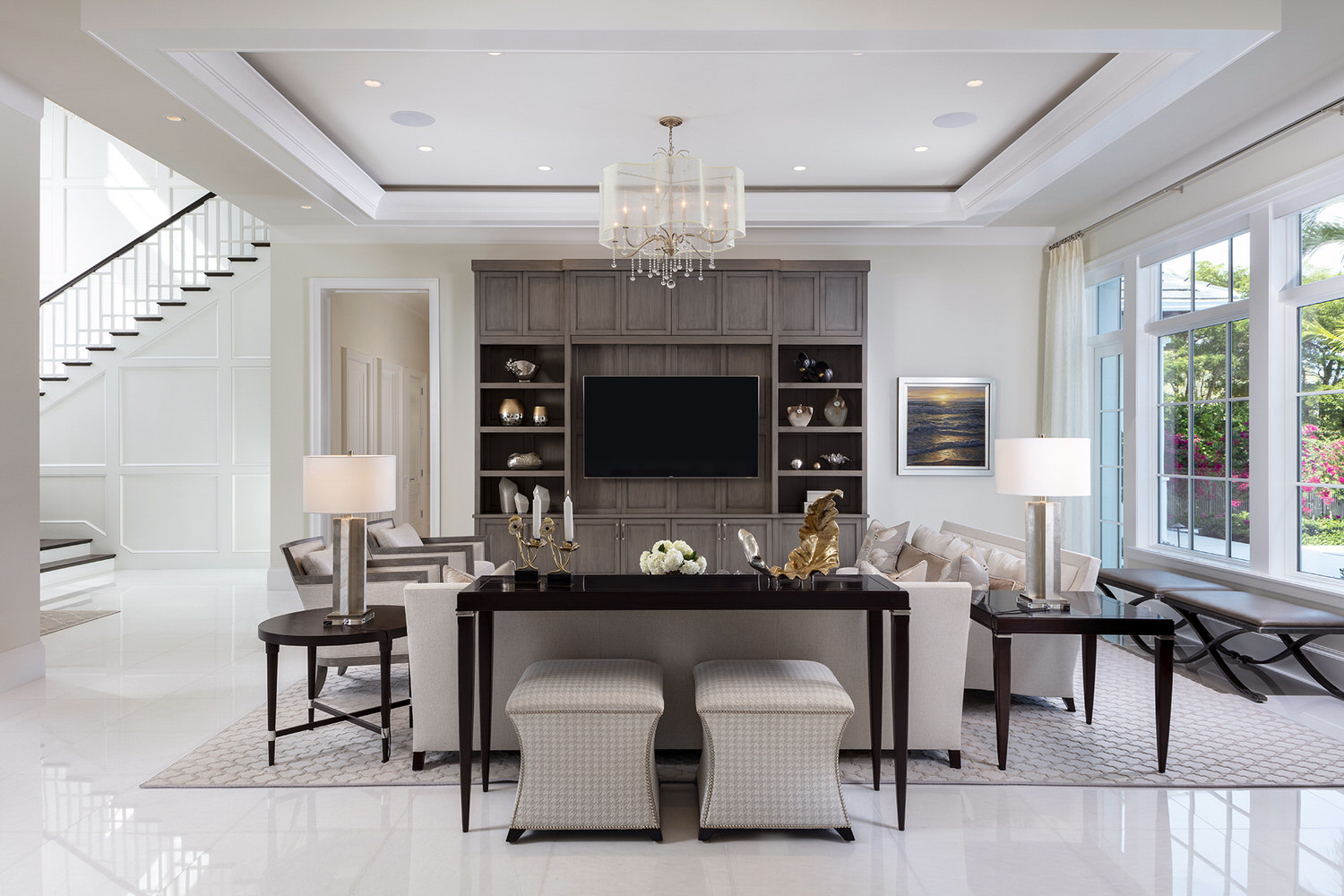 Construction had already begun on this new home when the designer was brought in to the project. The greatest challenge was effectively segregating the main living areas that occupied one wide open space while maintaining cohesiveness. By dropping painted wood ceiling beams in artful patterns, distinctive boundaries were subliminally created in an aesthetic way without walls, screens or partitions.
The design needed to be a harmonious marriage of glamorous, sophisticated, feminine touches for her and refined masculine elements for him. The effect was achieved by using warm woods like the bleached walnut hood of the kitchen, a neutral color palette and crystal blown glass lighting for understated glamour.
Warm tones are repeated in the dropped, walnut stained bar ceiling with stainless steel insets. Shagreen wallcovering and antique mirrored beveled tile in the niche draw you to this inviting gathering place and are a beautiful introduction to the glass wine cellar beyond.
When not entertaining, the more intimate seating in the den is the preferred spot for spending time watching television and curling up with the family pets.
Exquisite, silver metallic, embroidered pillows with pearl accents in the master bedroom satisfy her desire for a dash of luxury in this sumptuous retreat that overlooks the magnificent pool area. The master bath offers ample personal space for the couple with vanities situated generously apart and soaking tub between. Shower walls are white marble accented with custom, laser cut Damascus Leaf imported tile.
The VIP bedroom needed to be very "Naples, Florida" for guests. Shots of rich emerald green, tropical fabrics and an alligator embossed, leather upholstered quatrefoil ottoman deftly deliver the message.
An opulent powder bath features laser cut marble with polished nickel inlay on the vanity wall that richly complements the details in the cabinetry.
The outdoor living area is the favored central entertainment space for family and friends with its statement fireplace accented with bands of Agate Bari Pearl and separate cozy seating area surrounding the firepit.