Interior Designer
$4,000,001 – $5,000,000
Residential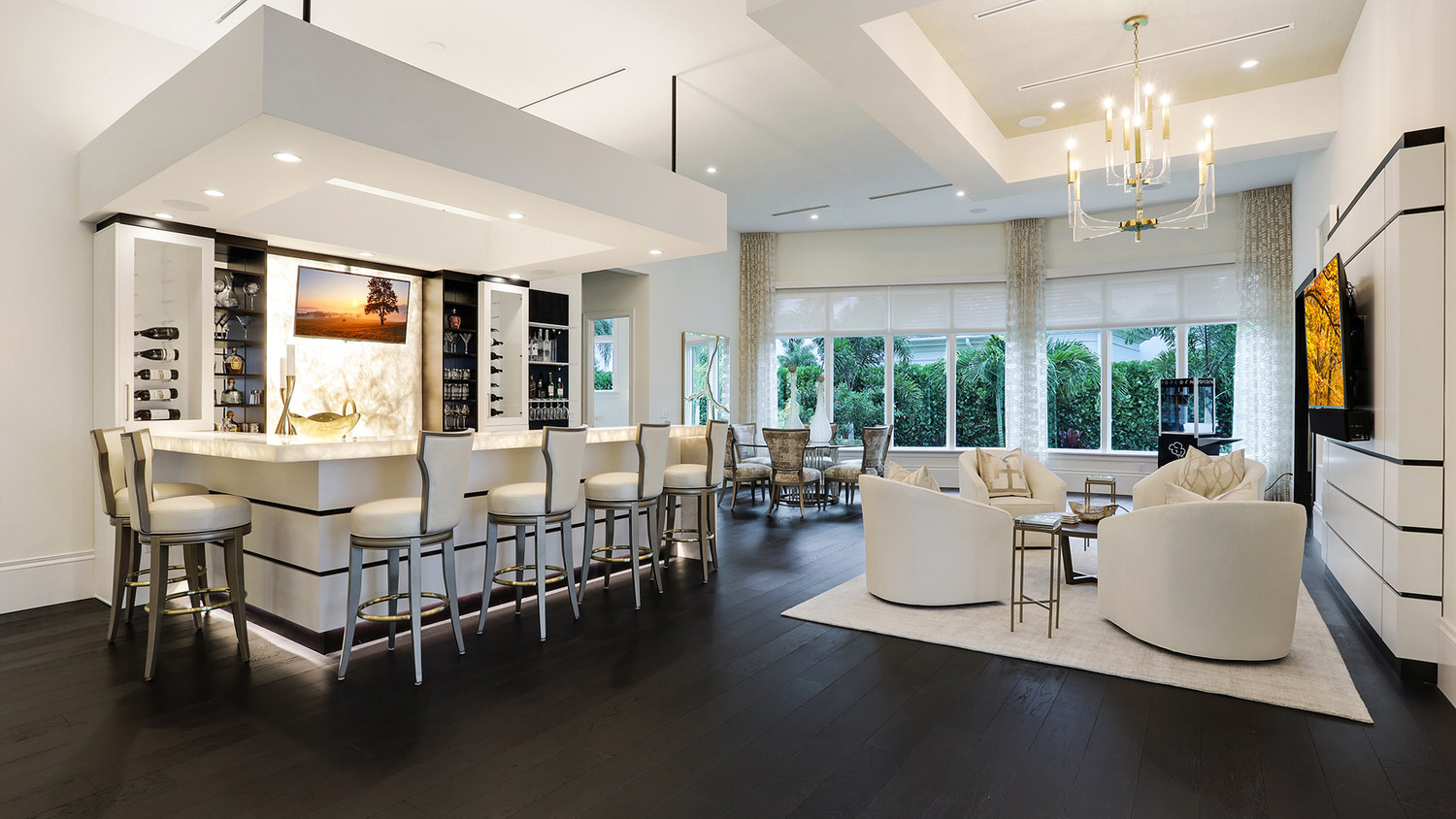 This media room was part of an impressive 1,600 sq. ft. addition. Black mahogany doors with horizontal gold inlays create an elaborate entrance into the room. Inside, Marilyn Monroe, a favorite of the homeowner, is showcased front and center with a glamorous portrait imprinted on an expansive 12' x 16' theatre screen. Cream leather reclining sectionals and white-on-white decorative wood wall treatments add to the room's sophisticated modern flair. Chic carpeting, luxe fur throw pillows, graphic pop art, and red and black accents complete the design.
While most theatre rooms tend to be dark and mimic the look of cinemas, this one is light and bright—while still offering the ability to control the lighting for a true Hollywood movie experience.
This 1,600 sq. ft. addition captures the sophistication of today's modern design. The building and design objectives included creating an elaborate entertainment area encompassing a wet bar, theatre room, lounge, and half bath that flowed with the existing 6,133 sq. ft. home.
Specialty lighting design played a key role in creating optimal elegance to the wet bar. Several linear feet of custom LED sheeting were added to illuminate the expansive quartzite bar countertop, while illuminated glass shelves were added to the front elevation. Great design detail was given to a sleek upper soffit to house the lighting of the wet bar. This soffit is suspended from the ceiling by metal rods thus giving the illusion of "floating" lighting to the bar surround. Detail was also given to the ceiling above the lounge to draw attention to the striking John Richards gold and Lucite two-tier chandelier.