Interior Designer
$5,000,001+
Private Residence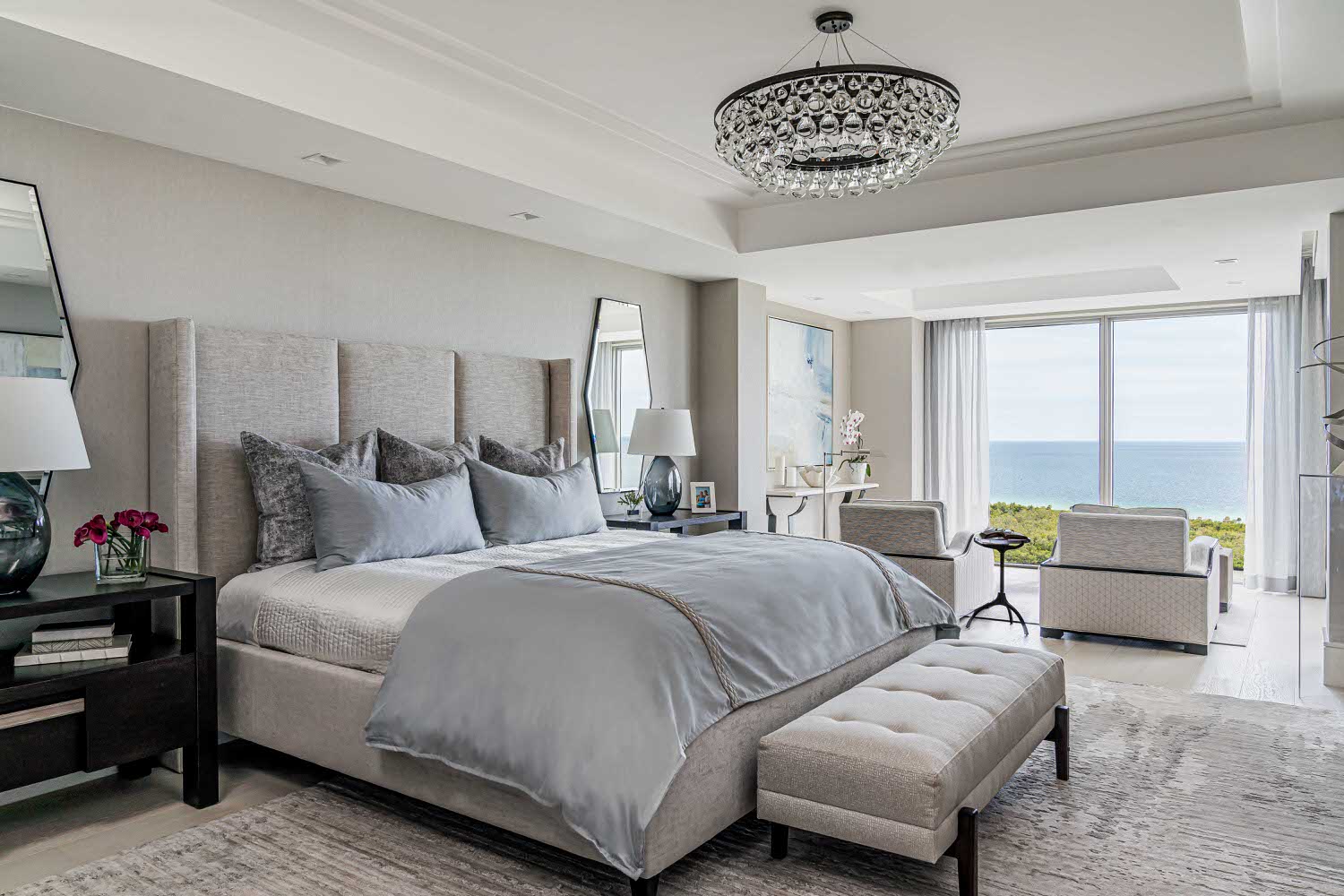 This master suite exudes serenity in a contemporary fashion. A soft color palette, rich elegant textiles, and wood accents come together to create this interior marvel. A king bed with beautiful contemporary lines can be found on the focal wall of this bedroom. The bed is upholstered in a gorgeous fabric that has a whisper of color for a bit of dimension. The soft tones are carried into the custom bedding that is on this bed. These same tonal, and textural elements can be seen on the furnishings throughout the space – from the bench at the foot of the bed, to the comfortable lounge chairs in the adjacent seating area. The fabulous rug, with a contemporary pattern, seen in this space has gorgeous silver, blue and gray tones in a two-dimensional pile for a textural aspect.
The case goods in this space are finished in a rich, dark wood tone. This was done with pure intention. The wood tones seen throughout the remainder of the unit are all rich, and dark, so that same element was carefully implemented into each space. The custom nightstands have a contemporary frame and are finished with a leather handle. The dresser has architectural features that nod to the contemporary millwork seen throughout the unit.
Every wall in the master bedroom is adorned with silk wall covering in a pearlescent tone. The subtlety of the coloring, mixed with a hint of shine make for a textural and dimensional masterpiece.
A custom chandelier was carefully curated for this space. The gorgeous metal work mixed with the solid glass accents create an ambient light that offers a beautiful glow to this room.
An en suite master bath completes this fabulous master suite. Separate his/ hers vanities are separated by a contemporary free standing tub, that has a dazzling split-faced stone accent wall behind. High-gloss, exotic- wood veneered cabinetry offer a rich accent to this space. Frosted glass door to the water closets offer an additional contemporary finish to the bathroom.
Streamlined furniture pieces coupled with rich and elegant textiles make this master suite a room to be reckoned with.