Interior Designer
$5,000,001+
Private Residence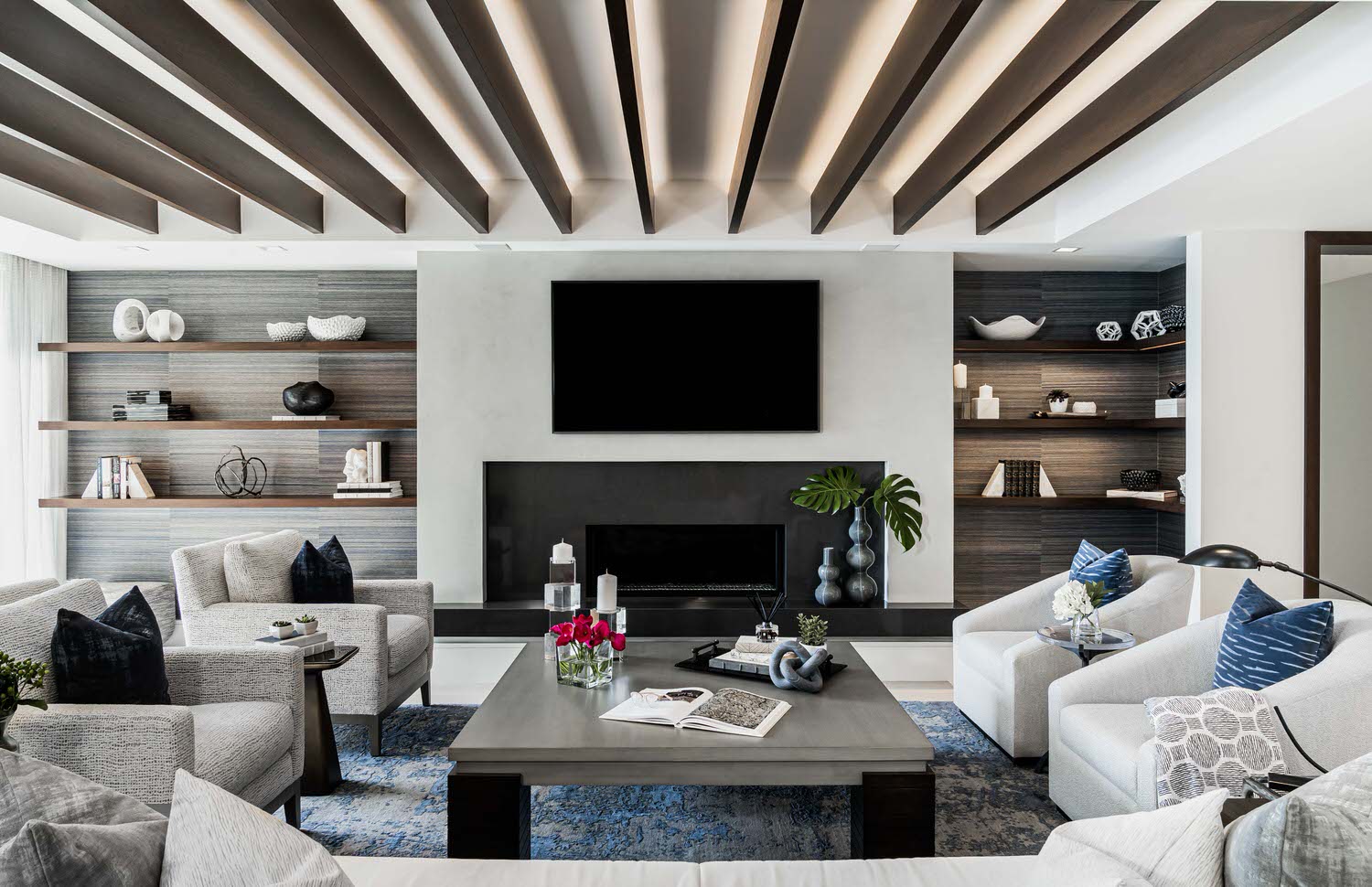 Nothing was held back when it came to finishing out this client's contemporary condo. The result was a highly detailed, functional, and aesthetically pleasing open concept unit. Millwork was a must to set apart this space. Dark stained walnut accents can be seen throughout the unit in carefully thought-out details. It begins upon entering the unit in the elevator foyer. Every piece of custom millwork was stained to make this entrance cozy, and inviting. Mixed with a contemporary wall covering, this space is truly a gem. The front doors boast the same walnut finish, and really foreshadow what's to come in the unit. The doorways that lead from the common areas to guest suites, and the master suite were all cased out in the dark stained walnut. This really helped to break up each space, and add an element of contrast. The Library ceiling is a focal point all on it's own. Skinny rafter-like beams, in the dark walnut finish, are suspended from one side of the tray to the other and finished with LED up-lighting. This ceiling created such a finished look to this room. The dining room was outfitted with a custom storage/ buffet built-in. In the same finish carried throughout the millwork, a simple, yet functional built in was created. A rich silk wall covering finished off this space.
Practical, yet beautiful textiles add a layer of elegance to this condo. A handsome color scheme of whites and neutrals, gray, and deep blue was a common theme throughout each space. Pops of each color can be seen throughout each space in accents, fabrics, and finishes. Simple shapes and forms were considered when picking out the furnishings for each area, and a generous art collection helped to really form this condo and add a level of detail that was desired. Each space was carefully laid out to make an impactful furniture arrangement, while making sure each room was considered separately.
Consistent use of minimal finishes, harmonious colors, and attention to detail helped to really create a refined interior.