Interior Designer
$4,000,001 – $5,000,000
Private Residence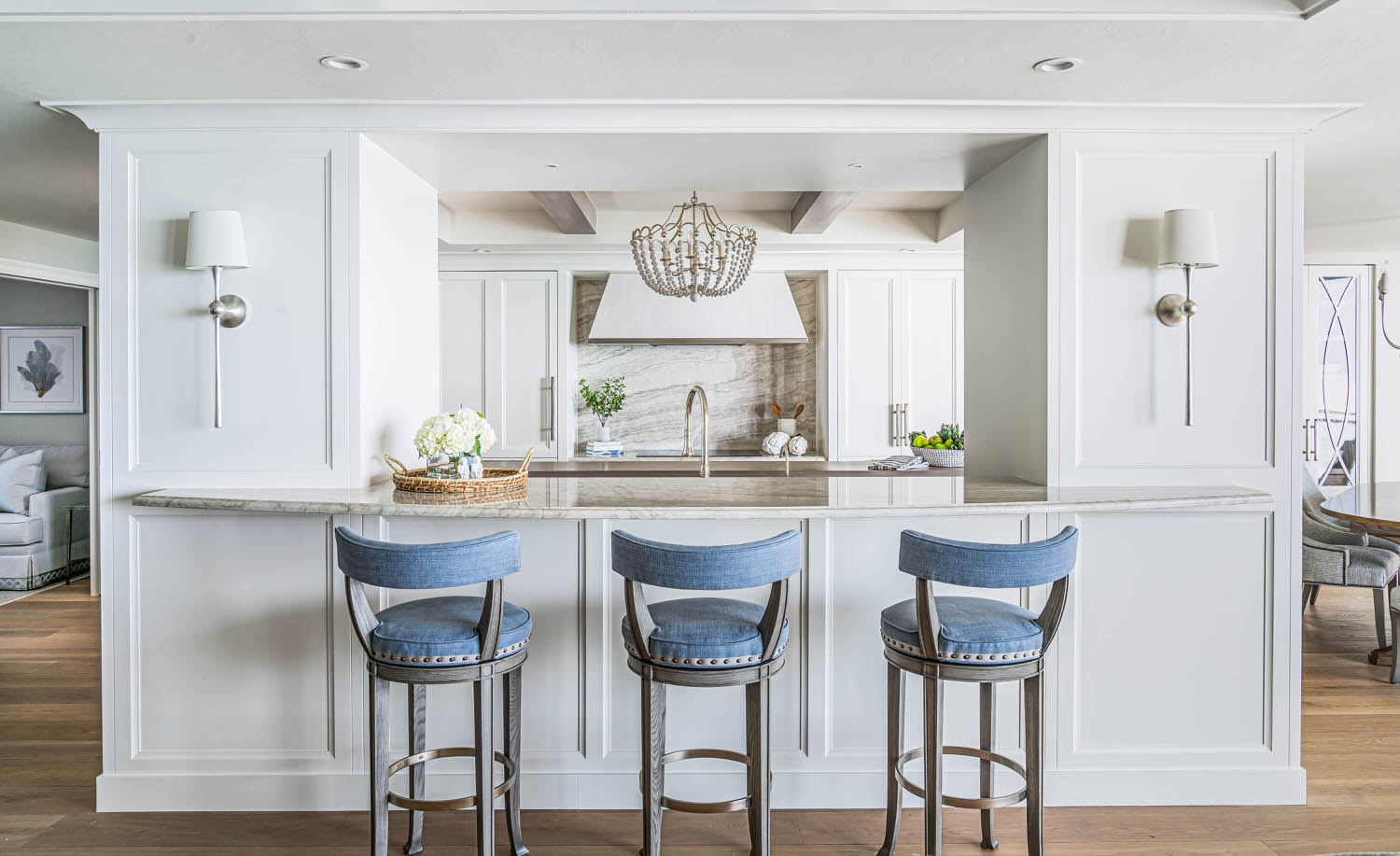 This kitchen was quite the challenge as it was a full gut and remodel in an older high-rise that had many limitations because of the existing conditions like electrical/plumbing stacks, structural columns and drains. The biggest challenge was keeping the space open, functional and not impeding the gorgeous ocean views. There is a large structural column in the middle of the space that we had to work around and the existing sink and drain were located on the back wall between the kitchen and dining. The client really wanted the sink located in the middle so that they could see the TV as well as look out to the water and feel apart of the living space while doing dishes or food prep. So we had to add a lift system to relocate the sink to the middle where it is now as there was no drain there and no drain could be added because of the post tension slab. We also hid the large column by cladding it with cabinetry and creating a faux column on the other side to match that actually became useful with pull out shelves that served as the owners pantry. For a small space we got alot of function out of it including a Galley Sink, Sub Zero Wolf Appliances, Custom Cabinetry and Quartzite Countertops. The owner really wanted an island for prep, but the space was limited so we added a custom long butcher block furniture like island in a rift cut white oak. The mix of finishes and textures really warmed up the space. All of the cabinetry is outfitted with Ashley Norton White Bronze hardware that really helps the space feel more like furniture than kitchen cabinetry. In the Dining Area we extended the Kitchen Cabinetry as the client needed a space to display some pieces as well as a hidden appliance station with (2) white doors that retract back to reveal the hidden toaster, blender, etc. The gorgeous cabinets really created a focal point in this kitchen. We were able to accent them some beautiful moulding details in the glass cabinets for added awe.
To finish the space we added some comfortable but simple Hickory Chair countertops in a soft crypton treated fabric for durability and a tape trim accented with nailhead. A antiqued silver, and beaded hangs above the central island for accent, and ambient lighting. This really gave the space a homey and comfortable feel.