Interior Design of the Year – Multi Family Homes
Model Home
$750,001 – $1,000,000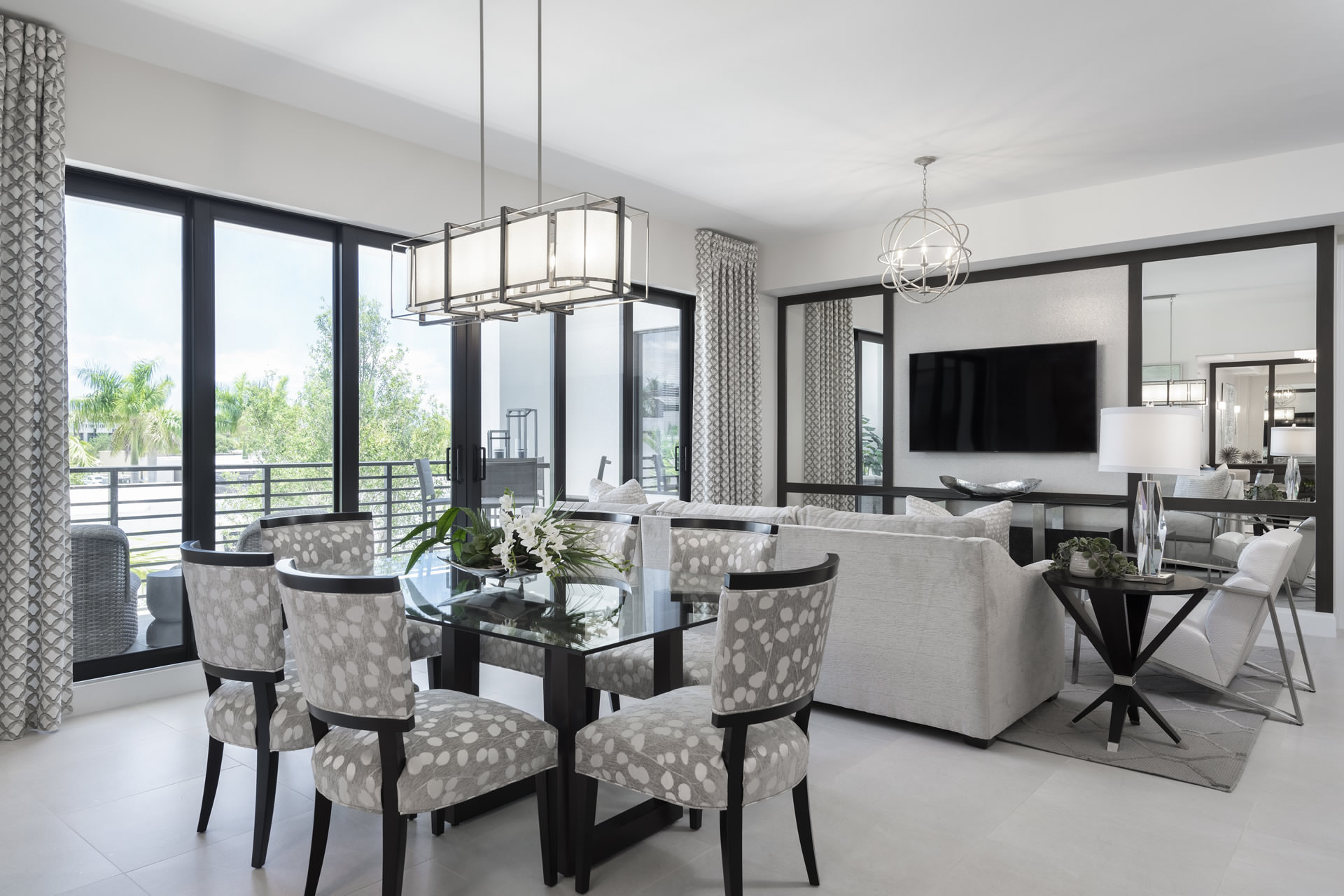 The designer was thrilled to be awarded a model to design in the beautiful 1111 Central development that offers such incredible amenities in the middle of downtown Naples, within walking distance of shops, restaurants and beaches. The model is an open floor plan just shy of 2,000-square-feet.
It features a kitchen, dining room, living area, two bedrooms, two-and-a-half baths, den and terrace. The goal was to create an upscale, sophisticated, urban-leaning design that would appeal to a broad audience, so a neutral color palette was chosen. Furniture pieces with sleek lines and rich wood finishes ranging in shades from charcoal to java are complimented by metallic fabrics in champagne, silver and pewter hues. Mica wallcovering glimmers beneath elegant sconces adding sparkle and luxury. Sleek quartz countertops contrast strikingly against dark cabinetry in the Kitchen. Another main goal was to make this smaller residence feel as large and open as possible.
The designer created focal walls in the living room and den with custom trim work framing custom mirrors that help expand the space and tie the rooms together so that they read as one. The den is a special feature in this condo. Instead of creating a typical home office or secondary TV room with a sleeper sofa for guests, the designer concentrated on creating a lounge space that would help open up the small condo and keep an open flow. Instead of feeling shut off by a tight space that is heavy with office furniture or packed full with media room furniture, this lounge offers a flexible space that can be used for reading, working on a lap top or iPad or other mobile device, having a cocktail, conversing, etc. Double chaise lounges and flexible "C" tables offer multi-functional utility. The luxurious wallpaper, rich millwork, elegant sconces, and chic bar cart add to the custom designed book cases to create a cool space that anyone would want to lounge in. The resulting design oozes urban sophistication, while being inviting and warm. In the master bedroom, a new wallpaper from York adorns the headboard wall, and the cool light fixture looks like a constellation in the night sky. Upgraded tile was selected and run in a herringbone pattern on the focal wall of the shower in the master bathroom to provide more interest.
Thank you
SPONSORS